St Mary's Church, Claxby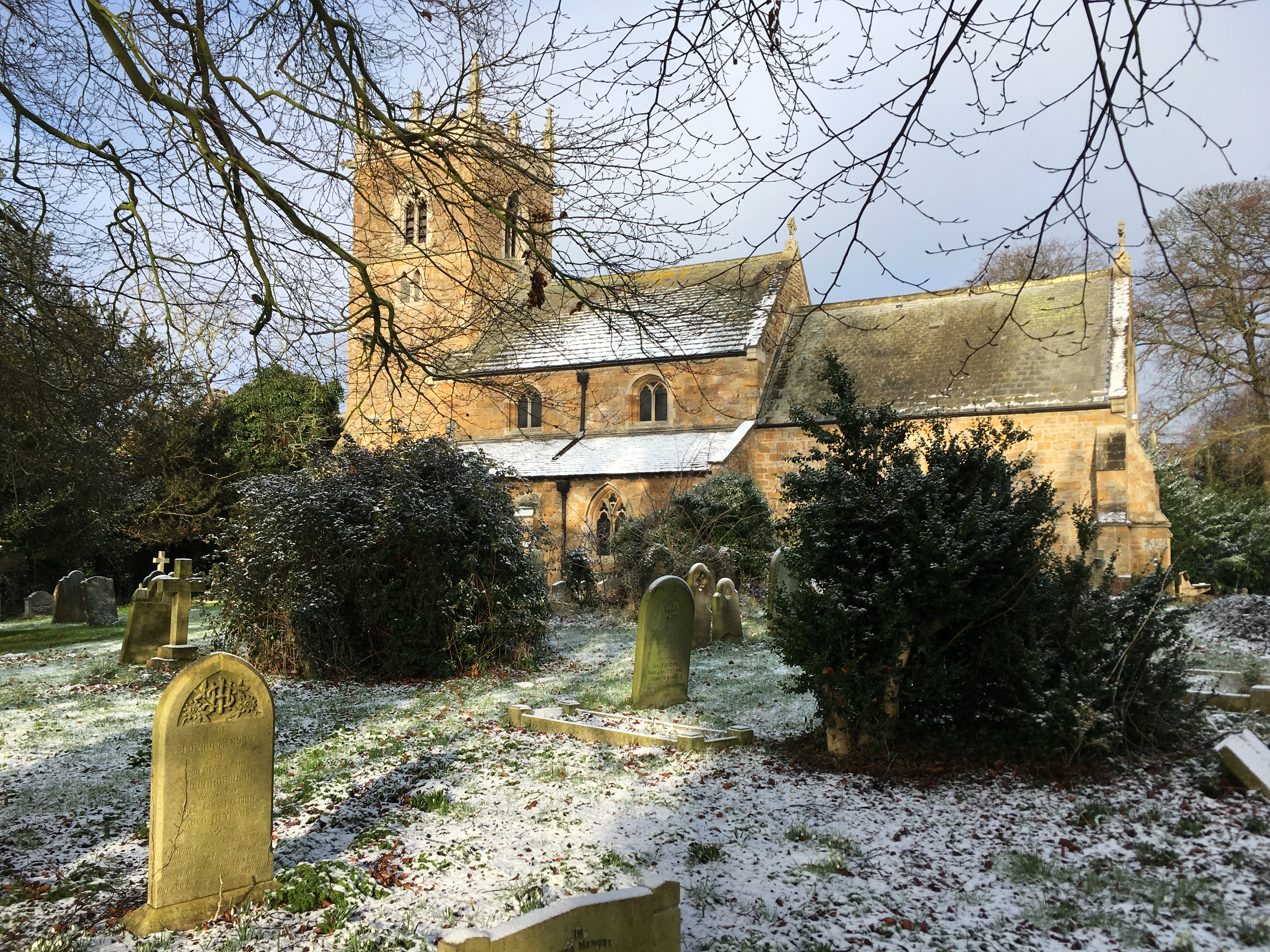 The chancel was built around 1310 and the windows at the top of the nave were added later, probably in the 15th century. By the mid 1800s the church had become quite run down, but was thoroughly restored in 1870 by John Fowler of Louth. He demolished the old tower and built a new one, adding new windows in the chancel, a new door and roof. What you see today is more or less how it looked when completed in 1871.
As we enter the church through the Victorian porch, we see a late medieval inner doorway, rebuilt here when the south aisle was constructed. Originally the walls of the nave would have been covered with Victorian wall paintings, but all that is left are those on the chancel arch, showing the four evangelists. The font and pulpit are Victorian.
The south aisle contains a memorial to the Claxby boys who lost their lives in the second world war, and also gives thanks to those who served and returned. Moving into the chancel through the Victorian screen which spans the 13th century arch, you will see two heads to the right and left. One sticks his tongue out while his raised arms hold the arch, while the other distorts his mouth with both hands. The pillars have vertical raised stripes, a motif made popular by the Lincoln cathedral masons. The fittings of the chancel are Victorian, including the stained glass and the elaborate reredos behind the altar.
The large memorial on the south wall is a Jacobean monument to John Witherwick. (Originally it would have been richly coloured). On the opposite side is the 13th century "founders tomb" – this may be Sir Thomas Brayboeuf who died at the time the chancel was built.
Leaving the chancel by the north aisle, note the 13th century octagonal pillars and chamfered arches and the stones on which the original roof timbers rested.
The large Victorian oil painting is one of a series of seven painted in medieval style for St. Paul's church, Burton on Trent. These paintings were obtained as a job lot when St Paul's was demolished in the 1970s and distributed around local churches. Others can be seen in Normanby, Stainton le Vale and South Kelsey.
The stained glass window in the tower was inserted in 1976 to commemorate a local man, George Ogg, and it includes references to all his interests: farming, bell ringing, cars, and the letters he carried as a postman.
On the west wall to the right of the tower there is a continuous list of rectors of Claxby from 1249 and Rectors of the combined parishes of Claxby and Normany le Wold from 1740.