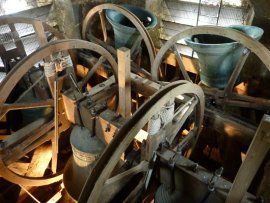 St Mary's has a ring of five bells with a considerable history. The 4th and tenor date back to around 1430. The 3rd was cast in 1789 and the 2nd and treble in 1877. Part of the wooden frame in which they all hang was made by James Harrison, brother of John, famous for the longitude clock. The two heaviest bells are thought worthy of preservation by the Council for the Care of Churches.
The bells, old and not so old, ring almost as true as when cast. However, age seldom helps moving parts and by the first decade of the 21st century ringing had become difficult. Fortunately, in 2010 relatively minor but important clapper and bearing renovation made the bells much easier to handle. They are now regarded as challenging but very worthwhile by novice and experienced ringers alike.
Sharing their skills between Claxby and the ring of six at Tealby All Saints', a band of enthusiasts meets regularly to practise and to call worshippers to Sunday services.
Newcomers, visiting ringers and spectators are welcome at both towers.
For more information contact the captain of the team, Phil Raven on raven75@btinternet.com